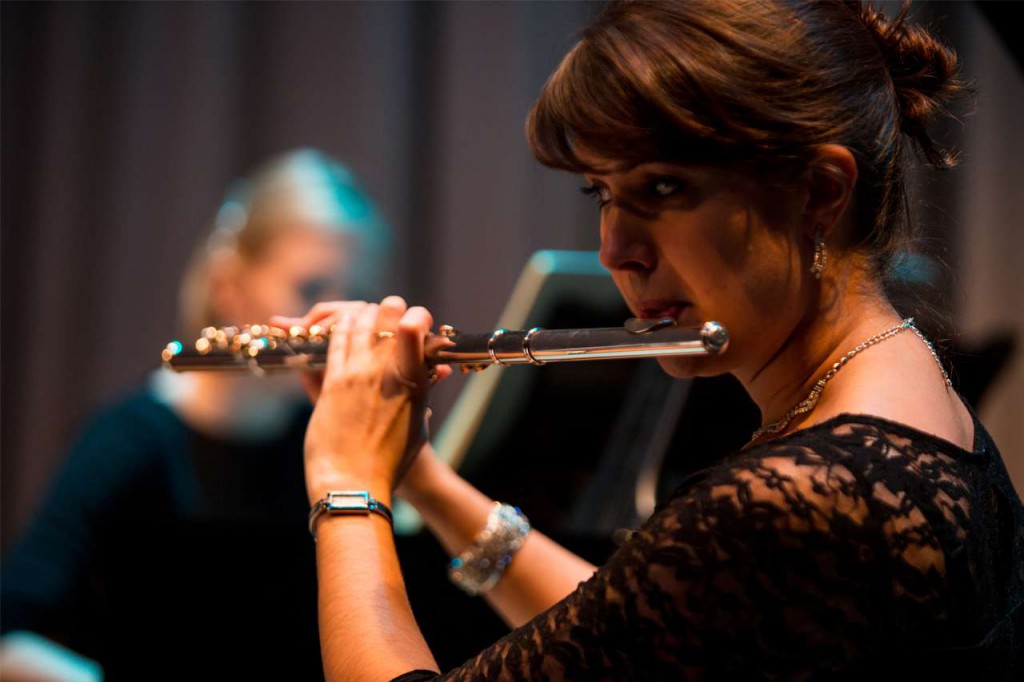 Claire Overbury – Flautist
Claire is an extremely accomplished London-based flautist, equally at home with solo performing and orchestral playing. Her individual vibrant playing style captures the passion, drama and emotion of the music. She adapts easily to a wide repertoire and she challenges the stereotypical image of the flute. She often brings new but accessible music to audiences and has had a number of works written for her by contemporary composers.
Claire studied music at Christ Church, Oxford, and in her first undergraduate year was awarded a music exhibition on the strength of her playing. After gaining her BA at Oxford, she went on to study for a Postgraduate Diploma in Performance at Trinity College of Music in London, achieving a distinction. In 2008, Claire was invited to play with the British Orchestral Academy, Southbank Sinfonia, and spent a very valuable year playing a wide variety of orchestral and chamber repertoire, often alongside orchestras such as the Royal Opera House and the Academy of St Martin in the Fields, and with many distinguished conductors and soloists. In 2009, she performed with Southbank Sinfonia in the National Theatre's production of Tom Stoppard's 'Every Good Boy Deserves Favour'.
Claire has continued to pursue an orchestral career and has performed regularly with the orchestras such as The Hallé, Royal Philharmonic Orchestra, Britten Sinfonia, and the BBC Philharmonic, in venues across the UK and Europe. These have included the Royal Albert Hall, the Royal Festival Hall, Palau de la Música Catalana in Barcelona, and at the Montreaux Festival in Switzerland. She has worked with many distinguished conductors and soloists including Charles Dutoit, Martha Argerich and Freddy Kempf, and has performed in the BBC Proms, live on BBC Radio 3 and on Swiss television.
As a chamber musician Claire is a founder member of the Métier Ensemble, performing a wide variety of repertoire for both duo and trio combinations. The duo was shortlisted for the Park Lane Group awards and the Métier Ensemble have performed for many music societies across the UK, including St Luke's Music Society, Haddington Concert Society and Linlithgow Arts Guild.
Claire has a love of Latin American and Spanish music, which led her to form her second duo partnership, Rouge, with guitarist Elena Zucchini, specialising in this repertoire. In June 2015 they were invited to the British Consulate in Jerusalem to play at the Queen's birthday celebrations.
In addition to these ensembles, Claire performs on Cunard cruise liners as a classical recitalist, as well as performing alongside Helen Vidovich as Syrinx in headline shows, and enjoys combining performing with visiting new and exciting places in the world.